The 2024 Honda Prologue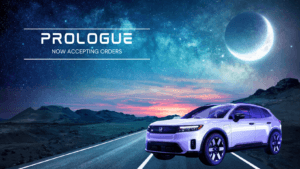 The 2024 Honda Prologue is a sign of what's to come. The Prologue is Honda Canada's first all-electric SUV and we're excited for its arrival. With a brand new style featuring futuristic aspects, enjoy a stylish ride that is sure to turn heads. 
Conceived by the LA-based design team, the neo-rugged styling of the 2024 Prologue nods to its spirit as a thoroughly modern SUV ready for adventures both inside and outside the city limits. 
Beneath its panoramic roof, the spacious Prologue offers over 102.6 cubic feet of room inside the cabin. And with muscular 21-inch wheels and a wheelbase on par with some of our other rugged vehicles, the fully electric SUV comes equipped with some sizeable capability. 
As a fully electric SUV, the Prologue is powered entirely by its rechargeable better, which eliminates tailpipe emissions and the need for gas. Every time you drive, you're effectively reducing your carbon footprint anywhere you go.
The all-new Honda Prologue SUV begins the next chapter in the brand's electric vehicle direction in Canada. Be sure to stay tuned and sign up for updates or pre-order yours today.