Driving Safety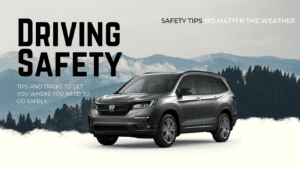 When driving, it's better to be overprepared than it is to be underprepared and found in a sticky situation. Here are some essentials you should have with you at all times when driving, especially in the winter months.
Some obvious items include your keys, wallet, and cell phone in case of emergencies but other items include:
Important paperwork such as your vehicle registration, your proof of insurance, and a list of phone numbers such as towing companies, insurance, emergency contacts, etc. 

Tire/wheel kit such as a spare tire, jack, lug wrench, and tire air pressure gauge. 

An emergency kit that includes first aid essentials, a flashlight with extra batteries, scissors to cut through a seatbelt if necessary, flares, cones, water and non-perishable snacks. 

Tool kit with a screwdriver, wrenches, wire cutters, hammer, and duct tape.

Jumper cables.

Gloves and blanket. 

Phone charger. 
Before going on any trip, make a list to ensure you have everything you might need in the case of an emergency. While we always hope we never get into one of those situations, it's better to be prepared than not. Making a pre-trip list can make a big difference and help you be ready for any situation. 
If you're going away for a longer period, have your vehicle checked by our service department at Waterloo Honda. Ensure your oil life is good, your wipers are working well and all fluids are topped off. Oh, don't forget to also get your tires and brakes checked as well. Next, you should plan out where exactly you are going and any backup routes if the one you planned should be inaccessible. It's also very important that you keep open communication on any trip and tell someone where exactly you are going and how you plan to get there. This comes in handy if something were to ever happen or you get stuck, as at least your destination will be known.  Before you go, double-check the weather so you can be better prepared for any driving conditions. Make sure you have the appropriate tires on your vehicle for whatever weather comes your way – if it's fall or winter, make sure you have your winter tires on with good tread. 
Some general driving tips while you're on the road include watching your mirrors and being aware of the vehicles around you and also staying off your phone so your eyes can be on the road. While this might be obvious, it's possible to "zone" out and get comfortable while driving and not notice your surroundings as well. 
We want you to arrive safely, so be sure to take those extra steps and contact us with any questions about your vehicle.