Waterloo Honda
Waterloo Honda opened in 1979, initially at a location on Gage Avenue, and then moved to its present location on King St. across from Conestoga Mall in 1986. Since that time, Waterloo Honda has increased the size of their service department and added an express service lane.
Sales
Waterloo Honda offers a full range of new and used vehicles. We boast an enthusiastic and competent sales staff to help you every step of the way. Even with the numerous upgrades and expansions of the last few years, we still offer a family-like atmosphere for all your automobile needs.
Service
Thank you for inquiring about Waterloo Honda Service. We take pride in offering top quality service from our team of factory trained technicians. Feel free to call upon any of our helpful and knowledgeable service advisers. Remember don't open your hood to strangers.
Parts
Come in and talk with our friendly parts staff. Parts Manager Mark Snowden and our Parts Representatives have been assisting Honda customers with all of their needs for over 35 years. We have a large inventory of parts on hand. What is not in stock if ordered before noon will be available by the following business day.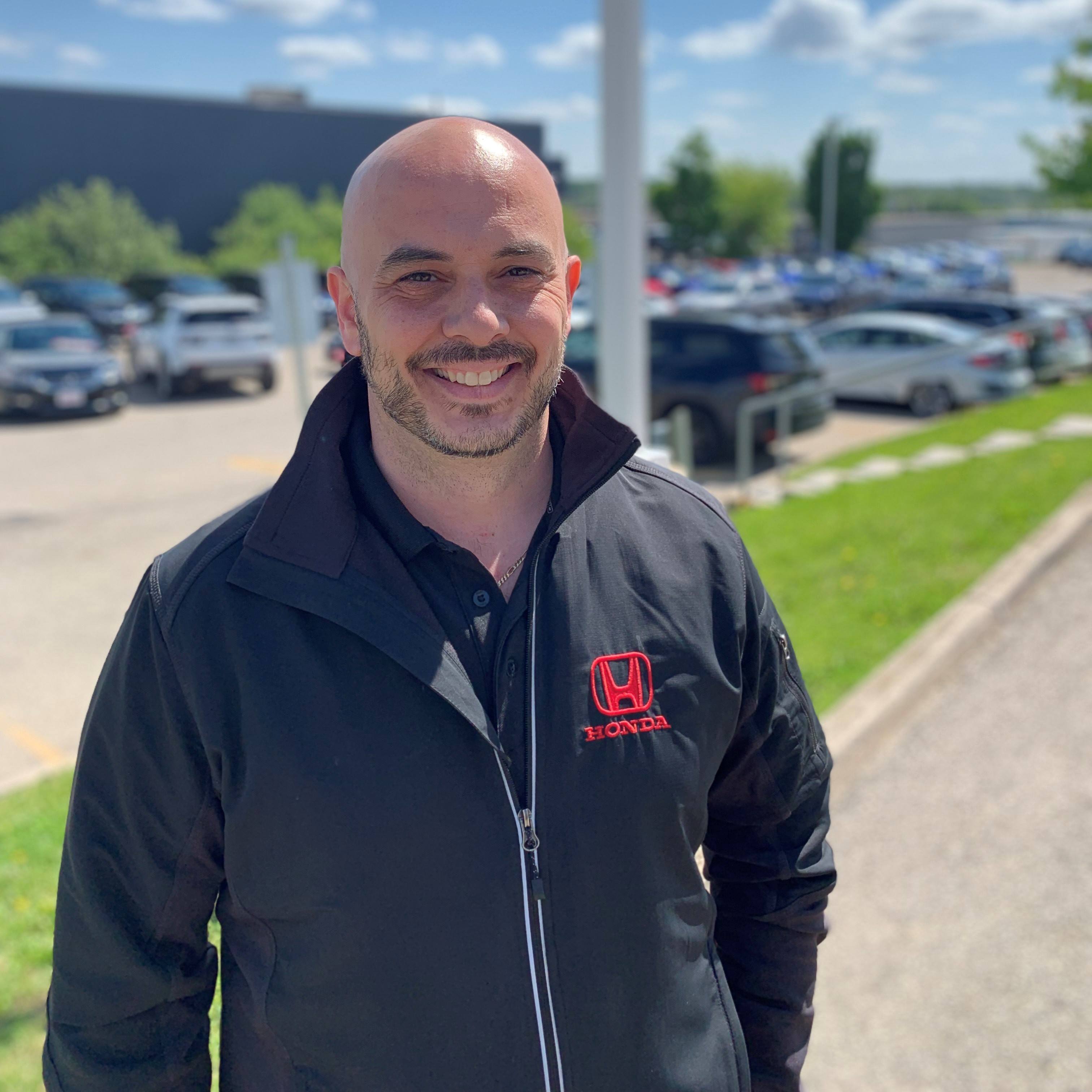 Perry Kantzas
General Manager
No contact details at this time
Lothar Quak
Lothar joined the Waterloo Honda Team in 1990. Lothar ist fließend Deutsch. Favorite Movie: The Point
Lothar joined the Waterloo Honda Team in 1990. Lothar ist fließend Deutsch. Favorite Movie: The Point
No contact details at this time
Chris Rahim
Sales Manager
No contact details at this time
Phil Hodgert
Sales Manager
No contact details at this time
Dave Howes
Loyalty Manager
Dave joined the Waterloo Honda Team in 2013.

Favorite Movie: Anchorman

5-stars
I had a great first experience getting a new car on my own. Dave Howes was excellent at answering all my (many!) questions and explaining my options with no pressure. Go see Dave!! Chelsea Bray

5-stars
I bought my first car from Waterloo Canada. I had no knowledge about car buying in Canada but the employees at Honda made it very easy for me. I am loving my new Honda Fit , I would strongly recommend Waterloo Honda and Dave Howes. Malvika Sharma

5-stars
Overall great experience! Dave Howes was very helpful and was able to provide me with everything that I needed to help make my decision easier. I needed to make my decision fast as I needed a car as soon as possible. He was willing to come in on his day off to ensure that I receive the car in time. Overall, everyone was very friendly and made buying my first car a great experience! I would recommend Waterloo Honda to anyone! Kaitlin Shaw

5-stars
I bought a 2013 Honda FIT from this dealership. I found the staff to be very knowledgeable about the vehicle and helpful in deciding on the car that was right for me. The service department was flexible in scheduling me and did a fine job for a reasonable price. I have no hesitation recommending the staff and salespeople at Waterloo Honda. Dave Howes helped me and he really knows his Hondas and is good and passionate about what he does. Customer service is above expectations. Robert Robert Mysicka

5-stars
Waterloo Honda offers an excellent experience. Dave Howes was my sales consultant. He is both personable and professional. I'm very happy with my Honda and hope to continue driving it for years to come. It's nice when quality of service matches quality of product. E Woolfrey

5-stars
We purchased our very first car from Waterloo Honda. Dave Howes was fantastic! We love our vehicle and would not go anywhere else as the service, commitment to customers and knowledge would bring us back for each of our purchases as well as recommend to others. Katie Purcell

5-stars
Although I was weary about making my first car purchase ever I had a really good experience at Waterloo Honda and I am really glad I chose to go there. My sales consultant was Dave Howes and he was informative, helpful, and patient. I felt no pressure at all to make a purchase but am sure glad I did. Martin Woudenberg

5-stars
I recently purchased a vehicle from Waterloo Honda and couldn't be happier. I visited many Honda dealerships in the area and received the best service from Waterloo Honda. The salesperson, Dave Howes, was very knowledgeable about the features of the vehicle and gave me helpful advice. I kept in contact with him before, during and even after I received my vehicle. Big thanks to Dave for all your help…I love my car! Shaesta Mitha

5-stars
I recently decided to lease a 2015 Honda CR-V. Definitely one of the best decisions I have made so far. I've been through my fair share of used cars and new cars, but this was by far the best experience I've had to date. The sales representative who assisted me was Dave Howes. He was extremely knowledgeable and knew what I was after. I picked up my new car on Wednesday, and have been loving every driving minute so far! Everyone at Waterloo Honda was very nice, and made me feel like I had found a reliable and trustworthy place where I feel comfortable coming to. I love my new vehicle, and I am so glad I decided to trust Honda this winter! Amanda H

5-stars
I was referred to Waterloo Honda by a friend, and my experience was nothing short of spectacular! My salesperson, Dave Howes, was both knowledgeable and straight forward regarding my lease of a Civic. He had an honest answer for every question I had, and even gave me his cell number so I could communicate with him quickly regarding all aspects of my purchase, from pricing to features. The process from signing to driving was very quick, just over a week. Waterloo Honda was quick to get my financing through, and dealt with the licensing for me. The delivery process was quick and simple, and the dealer followed up with me on more than one occasion to ensure I was happy with my new vehicle. I would highly recommend Dave Howes and Waterloo Honda to anyone. James Schnarr

5-stars
Today I got my Honda Civic 2014 Lx. After trying all different types of dealers (Mazda, Toyota and Mitsubishi) I mad my decision to get Honda. The moment I entered the dealer shop, the receptionist is very welcoming, polite and respectful. The guy who was responsible for showing me the cars, Dave one of their (Sales consultant). He is one of the nicest guys in the shop. First, he gave a test drive which was so different, he drives the car first and shows you what it is capable of in terms of handling, speeding and turning. (Not just talking like other dealers) he prove to you what he is talking about, then he gives you the wheel to test it yourself. He listened exactly to what I'm looking for, was very professional, and offer me one of their cars. however, the price was not in my range. He asked what I'm willing to pay, and he took my offer so seriously and did more than what he is capable of. Amazingly he succeeded and I made the deal and bought the car. Dave gives a full details about the car, it's like his own car. knows what he is saying. answering my questions and quires professionally. The day I picked up my car, he gave three gifts (Im not gonna say what are they, keep it as surprise for others :). The car is washed, gas full, and he set up my phone on the car. Very satisfied about their service, recommended. Thanks Dave for your service. Husam Eddin

5-stars
I purchased a 2014 Honda Civic a few weeks ago from Waterloo Honda and couldn't be happier with the experience. The salesperson, Dave Howes, helped me through the entire process from start to finish. He was very attentive to what I was looking for, always offering good advice, and I never once felt pressured. The entire experience of buying the vehicle at Waterloo Honda was extremely smooth and in the end I went home with an excellent, reliable car that I will be happy driving for years. Highly recommend Waterloo Honda if you are in the market for a vehicle! Lauren Willmot

5-stars
We purchased a brand new 2013 Honda Accord last year from Dave Howes at Waterloo Honda and we thought he did an outstanding job helping us find the perfect car. It was our first time buying a vehicle and Dave helped us through the entire process. He wasn't pushy in any way, he wanted us to know exactly what was available so we could find the perfect car for us. We never felt rushed with Dave, he answered all questions we had. He puts the needs of the client first. He wants his clients to be confident knowing they've invested in a high quality vehicle. If you have any interest in buying a Honda, start by going to Dave Howes. Kevin McHugh

5-stars
Waterloo Honda gave me exceptional service. My sales representative Dave Howes was especially conducive to helping me find my perfect car. He had so much information and expertise to give me so I could really find the right car with everything I was looking for. It was overall a great experience buying my very first car. Alisa Moore

5-stars
I purchased a 2013 Honda Civic at Waterloo Honda in February of 2014 and throughout the whole process; I received top-notch service from the entire team, especially my Sales Associate Dave Howes. When I started looking for my first car I worried that I might not be able to get exceptional service because I am young and because I was not planning on buying immediately. That concern ended once I arrived at Waterloo Honda. I was quickly paired up with a Sales Associate (Dave), who began by getting an understanding of what features I was looking for in a vehicle, my main priorities (Safety, Budget, Comfort, Performance etc.) and of my budget. Being asked how much I was looking to spend actually improved the overall process, as Dave was able to explain vehicles that would fit that budget perfectly. When it came time to look at vehicles in the showroom, I was shown particular features that met my priorities. When going through the vehicle, Dave tailored his explanations to my interests. Perhaps Dave's greatest strength as a sales associate is being able to tailor his explanations to anyone, as on another occasion, I watched him explain the features of an SUV to a completely different demographic with a completely different focus. A couple weeks passed and I continued to look at different vehicles, all the while Dave was available to answer questions about Honda's offerings even while he was on vacation. Ultimately Dave managed to find a vehicle that fit my needs, and my budget by looking at a 2013 Civic. After I selected my vehicle, the Business Manager, Alicia was upfront, clear, honest and helpful as we went through the various sets of paperwork and discussed warranties and loan options. I truly appreciated that instead of showing me the cost of a particular option, she showed how it changed my monthly payment, making the true cost of the option apparent, and decisions easier to make. Finally, the day arrived where it was time to pick up my vehicle. During this process Kevin spent roughly 45 minutes going over the features of the vehicle both inside and out, discussing maintenance and the onsite service facilities. Upon delivery the vehicle was clean, polished and parked under an awning, which made looking at the outside features of the vehicle more pleasant. After purchase, I continue to receive follow-up calls ensuring that I had no questions, and that all my needs were met. It is easy to say that from the moment I walked into Waterloo Honda, the entire team from Sales to Delivery were focused on meeting my every need in a prompt, professional manner. I would highly recommend that anyone, of any age visit Dave Howes at Waterloo Honda for their next vehicle purchase, and fully expect that their experience will be on par with, or exceed my own. Andrew WDave joined the Waterloo Honda Team in 2013.

Favorite Movie: Anchorman

5-stars
I had a great first experience getting a new car on my own. Dave Howes was excellent at answering all my (many!) questions and explaining my options with no pressure. Go see Dave!! Chelsea Bray

5-stars
I bought my first car fro...Read MoreRead Less
Dave joined the Waterloo Honda Team in 2013.

Favorite Movie: Anchorman

5-stars
I had a great first experience getting a new car on my own. Dave Howes was excellent at answering all my (many!) questions and explaining my options with no pressure. Go see Dave!! Chelsea Bray

5-stars
I bought my first car from Waterloo Canada. I had no knowledge about car buying in Canada but the employees at Honda made it very easy for me. I am loving my new Honda Fit , I would strongly recommend Waterloo Honda and Dave Howes. Malvika Sharma

5-stars
Overall great experience! Dave Howes was very helpful and was able to provide me with everything that I needed to help make my decision easier. I needed to make my decision fast as I needed a car as soon as possible. He was willing to come in on his day off to ensure that I receive the car in time. Overall, everyone was very friendly and made buying my first car a great experience! I would recommend Waterloo Honda to anyone! Kaitlin Shaw

5-stars
I bought a 2013 Honda FIT from this dealership. I found the staff to be very knowledgeable about the vehicle and helpful in deciding on the car that was right for me. The service department was flexible in scheduling me and did a fine job for a reasonable price. I have no hesitation recommending the staff and salespeople at Waterloo Honda. Dave Howes helped me and he really knows his Hondas and is good and passionate about what he does. Customer service is above expectations. Robert Robert Mysicka

5-stars
Waterloo Honda offers an excellent experience. Dave Howes was my sales consultant. He is both personable and professional. I'm very happy with my Honda and hope to continue driving it for years to come. It's nice when quality of service matches quality of product. E Woolfrey

5-stars
We purchased our very first car from Waterloo Honda. Dave Howes was fantastic! We love our vehicle and would not go anywhere else as the service, commitment to customers and knowledge would bring us back for each of our purchases as well as recommend to others. Katie Purcell

5-stars
Although I was weary about making my first car purchase ever I had a really good experience at Waterloo Honda and I am really glad I chose to go there. My sales consultant was Dave Howes and he was informative, helpful, and patient. I felt no pressure at all to make a purchase but am sure glad I did. Martin Woudenberg

5-stars
I recently purchased a vehicle from Waterloo Honda and couldn't be happier. I visited many Honda dealerships in the area and received the best service from Waterloo Honda. The salesperson, Dave Howes, was very knowledgeable about the features of the vehicle and gave me helpful advice. I kept in contact with him before, during and even after I received my vehicle. Big thanks to Dave for all your help…I love my car! Shaesta Mitha

5-stars
I recently decided to lease a 2015 Honda CR-V. Definitely one of the best decisions I have made so far. I've been through my fair share of used cars and new cars, but this was by far the best experience I've had to date. The sales representative who assisted me was Dave Howes. He was extremely knowledgeable and knew what I was after. I picked up my new car on Wednesday, and have been loving every driving minute so far! Everyone at Waterloo Honda was very nice, and made me feel like I had found a reliable and trustworthy place where I feel comfortable coming to. I love my new vehicle, and I am so glad I decided to trust Honda this winter! Amanda H

5-stars
I was referred to Waterloo Honda by a friend, and my experience was nothing short of spectacular! My salesperson, Dave Howes, was both knowledgeable and straight forward regarding my lease of a Civic. He had an honest answer for every question I had, and even gave me his cell number so I could communicate with him quickly regarding all aspects of my purchase, from pricing to features. The process from signing to driving was very quick, just over a week. Waterloo Honda was quick to get my financing through, and dealt with the licensing for me. The delivery process was quick and simple, and the dealer followed up with me on more than one occasion to ensure I was happy with my new vehicle. I would highly recommend Dave Howes and Waterloo Honda to anyone. James Schnarr

5-stars
Today I got my Honda Civic 2014 Lx. After trying all different types of dealers (Mazda, Toyota and Mitsubishi) I mad my decision to get Honda. The moment I entered the dealer shop, the receptionist is very welcoming, polite and respectful. The guy who was responsible for showing me the cars, Dave one of their (Sales consultant). He is one of the nicest guys in the shop. First, he gave a test drive which was so different, he drives the car first and shows you what it is capable of in terms of handling, speeding and turning. (Not just talking like other dealers) he prove to you what he is talking about, then he gives you the wheel to test it yourself. He listened exactly to what I'm looking for, was very professional, and offer me one of their cars. however, the price was not in my range. He asked what I'm willing to pay, and he took my offer so seriously and did more than what he is capable of. Amazingly he succeeded and I made the deal and bought the car. Dave gives a full details about the car, it's like his own car. knows what he is saying. answering my questions and quires professionally. The day I picked up my car, he gave three gifts (Im not gonna say what are they, keep it as surprise for others :). The car is washed, gas full, and he set up my phone on the car. Very satisfied about their service, recommended. Thanks Dave for your service. Husam Eddin

5-stars
I purchased a 2014 Honda Civic a few weeks ago from Waterloo Honda and couldn't be happier with the experience. The salesperson, Dave Howes, helped me through the entire process from start to finish. He was very attentive to what I was looking for, always offering good advice, and I never once felt pressured. The entire experience of buying the vehicle at Waterloo Honda was extremely smooth and in the end I went home with an excellent, reliable car that I will be happy driving for years. Highly recommend Waterloo Honda if you are in the market for a vehicle! Lauren Willmot

5-stars
We purchased a brand new 2013 Honda Accord last year from Dave Howes at Waterloo Honda and we thought he did an outstanding job helping us find the perfect car. It was our first time buying a vehicle and Dave helped us through the entire process. He wasn't pushy in any way, he wanted us to know exactly what was available so we could find the perfect car for us. We never felt rushed with Dave, he answered all questions we had. He puts the needs of the client first. He wants his clients to be confident knowing they've invested in a high quality vehicle. If you have any interest in buying a Honda, start by going to Dave Howes. Kevin McHugh

5-stars
Waterloo Honda gave me exceptional service. My sales representative Dave Howes was especially conducive to helping me find my perfect car. He had so much information and expertise to give me so I could really find the right car with everything I was looking for. It was overall a great experience buying my very first car. Alisa Moore

5-stars
I purchased a 2013 Honda Civic at Waterloo Honda in February of 2014 and throughout the whole process; I received top-notch service from the entire team, especially my Sales Associate Dave Howes. When I started looking for my first car I worried that I might not be able to get exceptional service because I am young and because I was not planning on buying immediately. That concern ended once I arrived at Waterloo Honda. I was quickly paired up with a Sales Associate (Dave), who began by getting an understanding of what features I was looking for in a vehicle, my main priorities (Safety, Budget, Comfort, Performance etc.) and of my budget. Being asked how much I was looking to spend actually improved the overall process, as Dave was able to explain vehicles that would fit that budget perfectly. When it came time to look at vehicles in the showroom, I was shown particular features that met my priorities. When going through the vehicle, Dave tailored his explanations to my interests. Perhaps Dave's greatest strength as a sales associate is being able to tailor his explanations to anyone, as on another occasion, I watched him explain the features of an SUV to a completely different demographic with a completely different focus. A couple weeks passed and I continued to look at different vehicles, all the while Dave was available to answer questions about Honda's offerings even while he was on vacation. Ultimately Dave managed to find a vehicle that fit my needs, and my budget by looking at a 2013 Civic. After I selected my vehicle, the Business Manager, Alicia was upfront, clear, honest and helpful as we went through the various sets of paperwork and discussed warranties and loan options. I truly appreciated that instead of showing me the cost of a particular option, she showed how it changed my monthly payment, making the true cost of the option apparent, and decisions easier to make. Finally, the day arrived where it was time to pick up my vehicle. During this process Kevin spent roughly 45 minutes going over the features of the vehicle both inside and out, discussing maintenance and the onsite service facilities. Upon delivery the vehicle was clean, polished and parked under an awning, which made looking at the outside features of the vehicle more pleasant. After purchase, I continue to receive follow-up calls ensuring that I had no questions, and that all my needs were met. It is easy to say that from the moment I walked into Waterloo Honda, the entire team from Sales to Delivery were focused on meeting my every need in a prompt, professional manner. I would highly recommend that anyone, of any age visit Dave Howes at Waterloo Honda for their next vehicle purchase, and fully expect that their experience will be on par with, or exceed my own. Andrew WDave joined the Waterloo Honda Team in 2013.

Favorite Movie: Anchorman

5-stars
I had a great first experience getting a new car on my own. Dave Howes was excellent at answering all my (many!) questions and explaining my options with no pressure. Go see Dave!! Chelsea Bray

5-stars
I bought my first car fro...Read MoreRead Less
No contact details at this time
Jorge Sandoval
Loyalty Manager
Jorge joined the Waterloo Honda Team in 2006.
Jorge es fluido en español.
Favorite Movie: Cinderella Man

5-stars
Just started my 3rd lease with Waterloo Honda! My sales guy Jorge Sandoval is wonderful to work with and the whole experience with his supporting staff was great! Jennifer Halcrow

5-stars
I have purchased 2 new vehicles from Waterloo Honda and have recommended it to several other friends who have also purchased from there. The difference is our sales person Jorge. He doesn't pressure you to make a decision, he knows his vehicles and he's completely honest about the purchasing or leasing process. We are completely comfortable coming to him to purchase a vehicle and when we need service, he is also there to help the process along. I highly recommend going to see Jorge if you are looking for a new vehicle. You won't regret it. Sonya Knipfel

5-stars
What an incredibly positive experience! I had been looking to purchase my very first brand new vehicle, after years of being a satisfied used Honda owner. Waterloo Honda came highly recommended by a friend, and I now understand why. The personnel are not only knowledgeable and passionate about their products, but they leave their customers feeling important. Jorje Sandoval was incredibly helpful and considerate. My questions were answered and I was never dismissed or made to feel a nuisance (as I had been at other dealerships). I felt the difference when I first walked in the door. No pressure to purchase or upgrade features, etc. Staff are personable and caring, and the overall experience was enjoyable. I would highly recommend Waterloo Honda. Sunita Gulati

5-stars
Jorge was a great sales person. The purchase was seamless and he followed up afterwards to make sure that everything was going well. The most impressive part was when I saw him around town he always remembered me by name. Kathryn Fedy

5-stars
Buying a car should be a very enjoyable experience and I'm happy to report it was! So many times the sales staff can overwhelm you and make the process something that you dread. I had a very different experience this time. The team at Waterloo Honda was top notch and very professional – I highly recommend. Special mention to my sales consultant Jorge. He made me feel very comfortable throughout the process and I felt he went above the call of duty to please me. If you're in the market for a new car, ask for him and you wont be disappointed. Trevor Heal

5-stars
Upon entering Waterloo Honda, Jorge Sandoval was very eager to assist me and answer any questions I had. Jorge was very patient and personable, moreover, he was honest about my car making decision, as he answered any question I had accurately. Jorge was able to give me the best deal on my 2014 Honda Civic, and I am very thankful. I love my new vehicle as well, it is known for being a long-lasting/durable car, and I plan to maintain it for many years to come. From the beginning, Jorge drove me in the car to explain its features, to ensure I was comfortable, then I took it for a ride and I knew it was the car for me. I tried out many different dealerships as anyone would, such as Toyota, Nissan, Mitsubishi, and Hyundai, but it was here that I found what I was looking for. During the process of making the deal for the car, I had a lot of questions, hesitations because it was my first time purchasing a brand new vehicle (I had purchased used before), and Jorge seemed to work around the clock because he was always there to answer my questions when I needed. On the day of the purchase, Jorge stayed after-hours to work with my work schedule. Furthermore, he personally moved my plates, took pictures with me and the vehicle to send to my family afar, set up my bluetooth, etc. Once again, thank you for being an outstanding Sales Associate, Jorge, I would definitely recommend the services provided by Jorge and the Waterloo Honda team!!! Mark Blackwood

5-stars
Met Jorge Sandoval in Waterloo Honda. Excellent dealership and really helpful sales. Got my 2014 Odyssey at a fantastic price. Overall very pleasant purchasing experience. Will recommend families and friends to Waterloo Honda!! Kelvin Wu

5-stars
Traditionally – for me at least – automobile purchases have always left a bit of a sour taste in my mouth, primarily because I never know if I've left too much on the table. It is a refreshing change then, to find a salesperson like Jorge Sandoval at Waterloo Honda. I have leased and purchased vehicles from Jorge, and in both cases felt entirely looked after and entirely satisfied that the deals I made were both fair and the right ones for me. In my opinion, that's what matters when purchasing an automobile. Highly recommended. BTW, never had any issues with the service at Waterloo Honda either. They have been outstanding. Andy Legg

5-stars
My wife and I bought a used car from Jorge at Waterloo Honda and would do it again! He was courteous and most helpful. I usually don't trust sales people but Jorge's down to earth attitude and no pressure sales style put me at ease. He was able to answer all our questions and make sure that we got the best car for us and our budget. When it's time for my next vehicle purchase I know I'm going to call Jorge and go to Waterloo Honda for another great and effortless car buying experience! Thanks Jorge for making buying a car a lot easier! Allan Hancock

5-stars
Just the other day I happened to go by the Honda dealer in Waterloo, I was looking into the possibility of getting another Honda. I already have a Civic but wanted to maybe get into a CRV, since the winter is still here and so harsh. So I got talking to Jorge Sandoval since I am very comfortable with him, he was the guy that put me in the Civic, and made the inquiring process so easy. I love the way he treats you , no pressure, which is a really good feeling, makes you part of the Honda family. I asked him how come that everybody is so friendly, he said that the people here are focused more towards people and make them feel that they really are part of the family. Jorge is always giving the best deal, even if sometimes maybe it is not in his best interest, but give a little and you gain a loyal customer, that is why I enjoy dealing with him. His friendly attitude, honesty and smile is a sure way to make your buying experience a wonderful event. The only thing he did not mention was that I was going to forget where the gas stations are since these cars are exceptional for fuel economy! I highly recommend Jorge, you should seek him and also highly recommend the Waterloo Honda dealer, their staff is awesome! Julian SheaJorge joined the Waterloo Honda Team in 2006.
Jorge es fluido en español.
Favorite Movie: Cinderella Man

5-stars
Just started my 3rd lease with Waterloo Honda! My sales guy Jorge Sandoval is wonderful to work with and the whole experience with his supporting staff was great! Jennifer Halcrow

5-stars
I hav...Read MoreRead Less
Jorge joined the Waterloo Honda Team in 2006.
Jorge es fluido en español.
Favorite Movie: Cinderella Man

5-stars
Just started my 3rd lease with Waterloo Honda! My sales guy Jorge Sandoval is wonderful to work with and the whole experience with his supporting staff was great! Jennifer Halcrow

5-stars
I have purchased 2 new vehicles from Waterloo Honda and have recommended it to several other friends who have also purchased from there. The difference is our sales person Jorge. He doesn't pressure you to make a decision, he knows his vehicles and he's completely honest about the purchasing or leasing process. We are completely comfortable coming to him to purchase a vehicle and when we need service, he is also there to help the process along. I highly recommend going to see Jorge if you are looking for a new vehicle. You won't regret it. Sonya Knipfel

5-stars
What an incredibly positive experience! I had been looking to purchase my very first brand new vehicle, after years of being a satisfied used Honda owner. Waterloo Honda came highly recommended by a friend, and I now understand why. The personnel are not only knowledgeable and passionate about their products, but they leave their customers feeling important. Jorje Sandoval was incredibly helpful and considerate. My questions were answered and I was never dismissed or made to feel a nuisance (as I had been at other dealerships). I felt the difference when I first walked in the door. No pressure to purchase or upgrade features, etc. Staff are personable and caring, and the overall experience was enjoyable. I would highly recommend Waterloo Honda. Sunita Gulati

5-stars
Jorge was a great sales person. The purchase was seamless and he followed up afterwards to make sure that everything was going well. The most impressive part was when I saw him around town he always remembered me by name. Kathryn Fedy

5-stars
Buying a car should be a very enjoyable experience and I'm happy to report it was! So many times the sales staff can overwhelm you and make the process something that you dread. I had a very different experience this time. The team at Waterloo Honda was top notch and very professional – I highly recommend. Special mention to my sales consultant Jorge. He made me feel very comfortable throughout the process and I felt he went above the call of duty to please me. If you're in the market for a new car, ask for him and you wont be disappointed. Trevor Heal

5-stars
Upon entering Waterloo Honda, Jorge Sandoval was very eager to assist me and answer any questions I had. Jorge was very patient and personable, moreover, he was honest about my car making decision, as he answered any question I had accurately. Jorge was able to give me the best deal on my 2014 Honda Civic, and I am very thankful. I love my new vehicle as well, it is known for being a long-lasting/durable car, and I plan to maintain it for many years to come. From the beginning, Jorge drove me in the car to explain its features, to ensure I was comfortable, then I took it for a ride and I knew it was the car for me. I tried out many different dealerships as anyone would, such as Toyota, Nissan, Mitsubishi, and Hyundai, but it was here that I found what I was looking for. During the process of making the deal for the car, I had a lot of questions, hesitations because it was my first time purchasing a brand new vehicle (I had purchased used before), and Jorge seemed to work around the clock because he was always there to answer my questions when I needed. On the day of the purchase, Jorge stayed after-hours to work with my work schedule. Furthermore, he personally moved my plates, took pictures with me and the vehicle to send to my family afar, set up my bluetooth, etc. Once again, thank you for being an outstanding Sales Associate, Jorge, I would definitely recommend the services provided by Jorge and the Waterloo Honda team!!! Mark Blackwood

5-stars
Met Jorge Sandoval in Waterloo Honda. Excellent dealership and really helpful sales. Got my 2014 Odyssey at a fantastic price. Overall very pleasant purchasing experience. Will recommend families and friends to Waterloo Honda!! Kelvin Wu

5-stars
Traditionally – for me at least – automobile purchases have always left a bit of a sour taste in my mouth, primarily because I never know if I've left too much on the table. It is a refreshing change then, to find a salesperson like Jorge Sandoval at Waterloo Honda. I have leased and purchased vehicles from Jorge, and in both cases felt entirely looked after and entirely satisfied that the deals I made were both fair and the right ones for me. In my opinion, that's what matters when purchasing an automobile. Highly recommended. BTW, never had any issues with the service at Waterloo Honda either. They have been outstanding. Andy Legg

5-stars
My wife and I bought a used car from Jorge at Waterloo Honda and would do it again! He was courteous and most helpful. I usually don't trust sales people but Jorge's down to earth attitude and no pressure sales style put me at ease. He was able to answer all our questions and make sure that we got the best car for us and our budget. When it's time for my next vehicle purchase I know I'm going to call Jorge and go to Waterloo Honda for another great and effortless car buying experience! Thanks Jorge for making buying a car a lot easier! Allan Hancock

5-stars
Just the other day I happened to go by the Honda dealer in Waterloo, I was looking into the possibility of getting another Honda. I already have a Civic but wanted to maybe get into a CRV, since the winter is still here and so harsh. So I got talking to Jorge Sandoval since I am very comfortable with him, he was the guy that put me in the Civic, and made the inquiring process so easy. I love the way he treats you , no pressure, which is a really good feeling, makes you part of the Honda family. I asked him how come that everybody is so friendly, he said that the people here are focused more towards people and make them feel that they really are part of the family. Jorge is always giving the best deal, even if sometimes maybe it is not in his best interest, but give a little and you gain a loyal customer, that is why I enjoy dealing with him. His friendly attitude, honesty and smile is a sure way to make your buying experience a wonderful event. The only thing he did not mention was that I was going to forget where the gas stations are since these cars are exceptional for fuel economy! I highly recommend Jorge, you should seek him and also highly recommend the Waterloo Honda dealer, their staff is awesome! Julian SheaJorge joined the Waterloo Honda Team in 2006.
Jorge es fluido en español.
Favorite Movie: Cinderella Man

5-stars
Just started my 3rd lease with Waterloo Honda! My sales guy Jorge Sandoval is wonderful to work with and the whole experience with his supporting staff was great! Jennifer Halcrow

5-stars
I hav...Read MoreRead Less
Kim Winsor
Used Car Product Advisor
Kim joined the Waterloo Honda team in 2011 Kim's favourite movie is Frost/Nixon
Kim joined the Waterloo Honda team in 2011 Kim's favourite movie is Frost/Nixon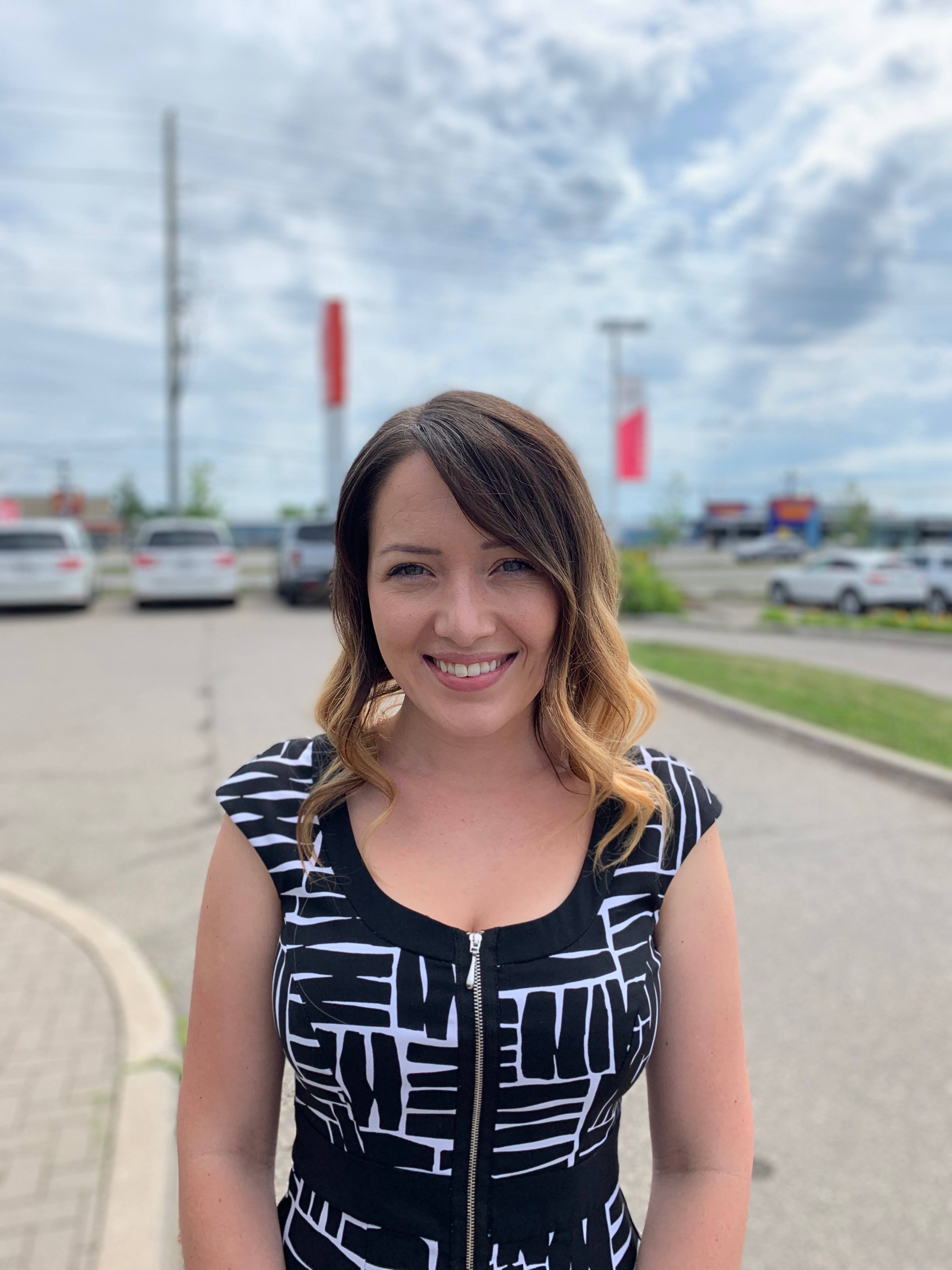 Kourtney Pfeiler
Financial Services Manager
No contact details at this time
Kurt Ramsubhag
Financial Services Manager
No contact details at this time
Bryan Howes
Financial Services Manager
No contact details at this time
Nathan Corbin
Financial Services Manager
No contact details at this time
Ming Ge
Product Advisor
Ming joined the Waterloo Honda Team in 2015. Favorite Movie: Pretty Woman
Ming joined the Waterloo Honda Team in 2015. Favorite Movie: Pretty Woman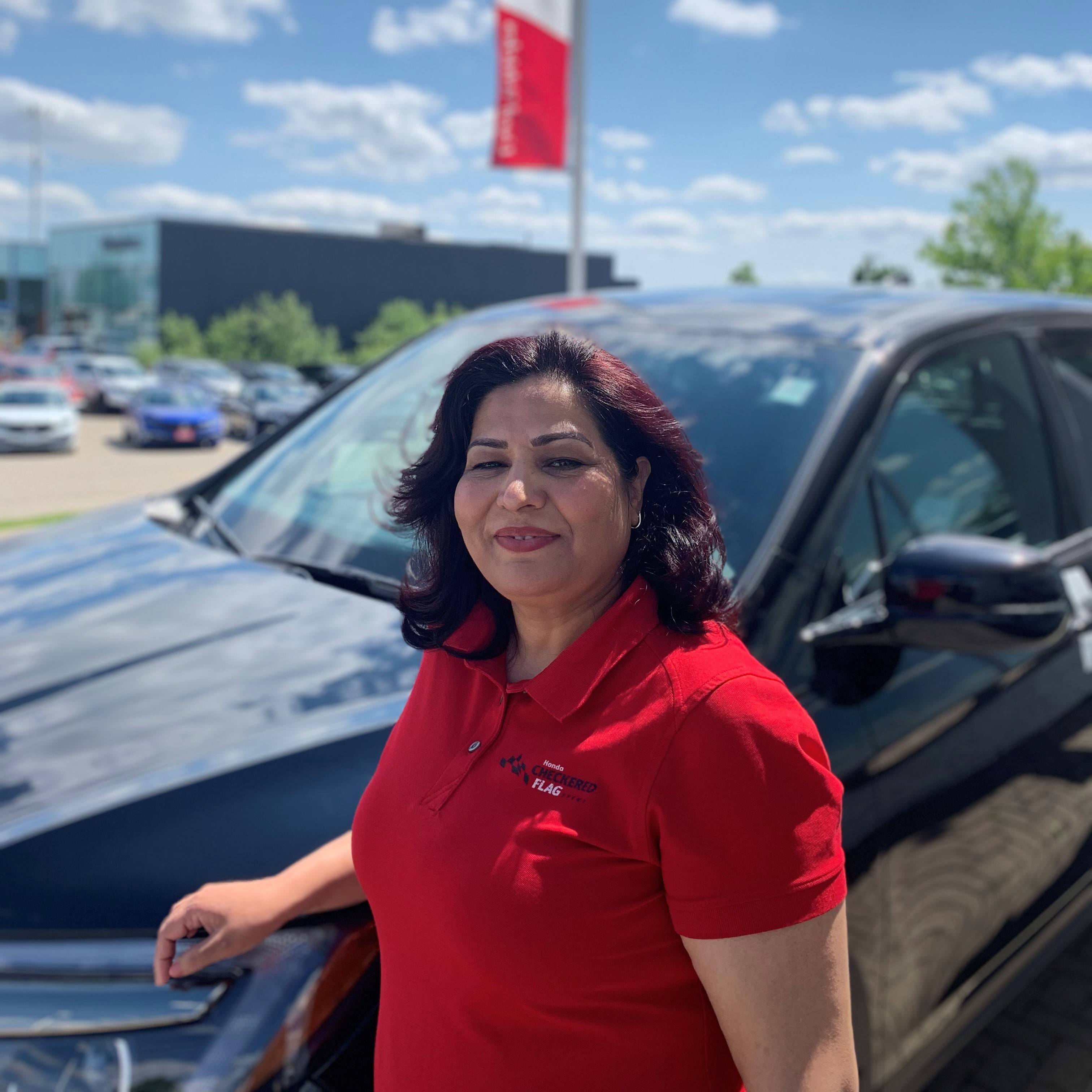 Nadia Kohistani
Product Advisor
Nadia joined the Waterloo Honda team in 2018 Her favourite move is The Titanic. Nadia is fluent in Farsi
Nadia joined the Waterloo Honda team in 2018 Her favourite move is The Titanic. Nadia is fluent in Farsi
No contact details at this time
Ashleigh Gilbert
Customer Care Representative
No contact details at this time
Jim Woodhouse
Sales / Service Coordinator
Jim joined the Waterloo Honda Team in 2003. Favorite Movie: Twilight
Jim joined the Waterloo Honda Team in 2003. Favorite Movie: Twilight
No contact details at this time
Rob Allan
Service Manager/Service Advisor
Rob joined the Waterloo Honda Team in 2003. Favorite Movie: The Replacements
Rob joined the Waterloo Honda Team in 2003. Favorite Movie: The Replacements
No contact details at this time
Versha Manani
Warranty Administrator
Versha joined the Waterloo Honda Team in 2004. Favorite Movie: Frozen
Versha joined the Waterloo Honda Team in 2004. Favorite Movie: Frozen
No contact details at this time
Brad Shantz
Shuttle Driver
Brad joined the Waterloo Honda Team in 1997. Favorite Movie: Price is Right (Bob Barker Era
Brad joined the Waterloo Honda Team in 1997. Favorite Movie: Price is Right (Bob Barker Era
No contact details at this time
Brian Kohlsmith
Shuttle Driver
Brian joined the Waterloo Honda Team in 2007. Favorite Movie: Ice Age
Brian joined the Waterloo Honda Team in 2007. Favorite Movie: Ice Age
No contact details at this time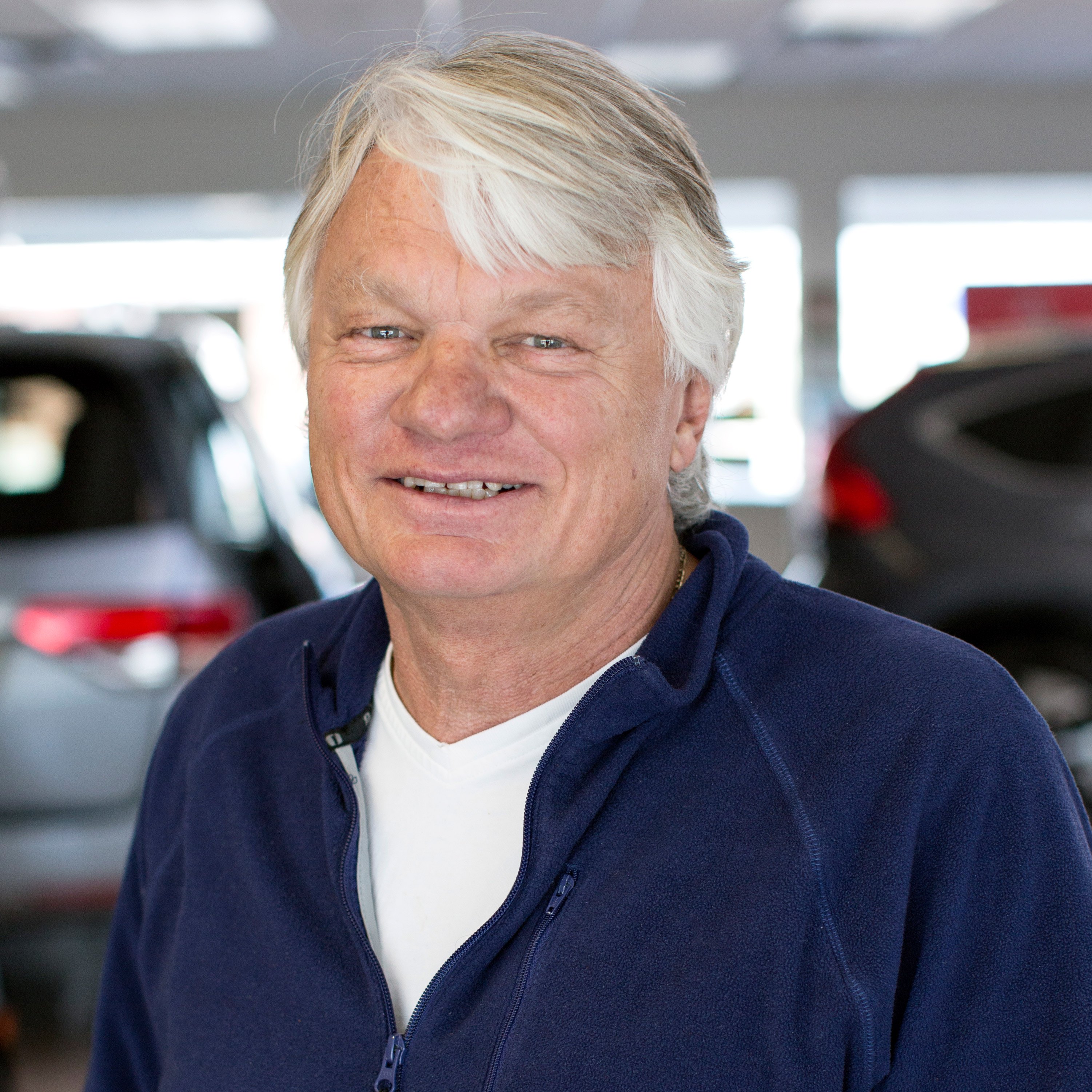 Rick Zilinskas
Shuttle Driver
Rick joined the Waterloo Honda Team in 2013. Favorite Movie: Rud
Rick joined the Waterloo Honda Team in 2013. Favorite Movie: Rud
No contact details at this time
Azfar Usman
Technician
Azfar joined the Waterloo Honda Team in 2000. Favorite Movie: Poltergeist
Azfar joined the Waterloo Honda Team in 2000. Favorite Movie: Poltergeist
No contact details at this time
David Amstein
Technician
Dave joined the Waterloo Honda Team in 2002. Favorite Movie: Grumpy Old Men
Dave joined the Waterloo Honda Team in 2002. Favorite Movie: Grumpy Old Men
No contact details at this time
Freddie Visitacion
Technician
Freddie joined the Waterloo Honda Team in 2017 Favourite Movie: Raiders of the Lost Ark
Freddie joined the Waterloo Honda Team in 2017 Favourite Movie: Raiders of the Lost Ark
No contact details at this time
Mohammed Mohammed
Technician
Mohammed joined the Waterloo Honda Team in 2000. Favorite TV Show: Seinfeld
Mohammed joined the Waterloo Honda Team in 2000. Favorite TV Show: Seinfeld
No contact details at this time
Steve Phelan
Technician
Steve joined the Waterloo Honda Team in 2007. Favorite Game: Footbal
Steve joined the Waterloo Honda Team in 2007. Favorite Game: Footbal
No contact details at this time
Jim Ziegler
Detailing Technician
Jim joined the Waterloo Honda Team in 2009. Favorite Movie: Pink Floyd's The Wall
Jim joined the Waterloo Honda Team in 2009. Favorite Movie: Pink Floyd's The Wall
No contact details at this time
Karl Spence
Porter
Karl joined the Waterloo Honda Team in 2015. Favorite Movie: The Wizard of Oz
Karl joined the Waterloo Honda Team in 2015. Favorite Movie: The Wizard of Oz
No contact details at this time
Kiefer Simmins
Tech Apprentice
Kiefer joined the Waterloo Honda Team in 2014. Favorite Movie: Justin Bieber: Rise to Fame
Kiefer joined the Waterloo Honda Team in 2014. Favorite Movie: Justin Bieber: Rise to Fame
No contact details at this time
John McCarty
Technician
John has been with Waterloo Honda since 2018 Johns favourite movie is the Equalizer
John has been with Waterloo Honda since 2018 Johns favourite movie is the Equalizer
No contact details at this time
Joseph Stan
Detailing Technician
No contact details at this time
Alexa Pease
Service Customer Care
No contact details at this time
Christie Weir
Service Advisor
No contact details at this time
No contact details at this time
Jesse Goodwin
Lube Technician
No contact details at this time
Doug McArthur
Shuttle Driver
No contact details at this time
George Treffry
Shuttle Driver
No contact details at this time
Jamie Curtis
Service Advisor
No contact details at this time
Jason Cairns
Service Advisor
No contact details at this time
Jeremy Brutzki
Technician
No contact details at this time
Jesse Kavelman
Apprentice Technician
No contact details at this time
No contact details at this time
Michael Smit
Service Advisor
No contact details at this time
Randy Reidt
Shuttle Driver
No contact details at this time
No contact details at this time
Sarah Trevisan
Service Customer Care
No contact details at this time
Tony Song
Lube Technician
No contact details at this time
No contact details at this time
No contact details at this time
Zachary Heldman
Technician
No contact details at this time
Mark Snowden
Director of Fix Ops
Mark joined the Waterloo Honda Team in 1990. Favorite Movie: Ghos
Mark joined the Waterloo Honda Team in 1990. Favorite Movie: Ghos
No contact details at this time
Trevor Taylor
Parts Manager
Trevor joined the Waterloo Honda Team in 2015. Favorite Movie: Dirty Dancing
Trevor joined the Waterloo Honda Team in 2015. Favorite Movie: Dirty Dancing
No contact details at this time
Doug Shushack
Parts Shuttle Driver
Doug joined the Waterloo Honda Team in 2013. Favorite Movie: Hot Pursuit
Doug joined the Waterloo Honda Team in 2013. Favorite Movie: Hot Pursuit
No contact details at this time
Rick Fewster
Parts Shuttle Driver
Rick joined the Waterloo Honda Team in 2013. Favorite Movie: 7 Brides for 7 Brothers
Rick joined the Waterloo Honda Team in 2013. Favorite Movie: 7 Brides for 7 Brothers
No contact details at this time
Clem Herron
Parts Shuttle Drive
No contact details at this time
Robert Bull
Parts Advisor
Rob joined the Waterloo Honda Team in 2005. Favorite Movie: 12 Monkey
Rob joined the Waterloo Honda Team in 2005. Favorite Movie: 12 Monkey
No contact details at this time
Ishwar Luckhai
Parts Advisor
No contact details at this time
Neda Mandic
Accounting
Neda joined the Waterloo Honda Team in 2010. Favorite Movie: Mission Impossible
Neda joined the Waterloo Honda Team in 2010. Favorite Movie: Mission Impossible
No contact details at this time
Debbie McCaffery
Accounting
No contact details at this time
Rebecca Friedel
Accounting
No contact details at this time
Julie Oxby
Compliance & Audit Specialist
No contact details at this time